Knights' Castle and Abbot's Seat
In 1185, the Knights of Nuzzin, were first mentioned as the owners of the castle on the rock spur. But what the castle had looked like is unkown.

In 1315, the Meissen Bishops acquired the castle and held ituntil they sold it in 1436 to Altzella Monastery. Until the dissolution of the monastery in 1540, the castle remained a retreat for the abbot.
Electroal hunting and travel lodge, seat of the bailiwick
After the Reformation, theformer monastic property of Altzella became the Nossen Office. It was given its seat at Nossen Castle, which the Elector had converted from 1554 with the rubble from the monastery into a representative Renaissance castle. The west wing with the three round towers reminding us of the Moritzburg Castle towers originate from that time as well as the »Giant Hall«, parts of which part serve still today as venues for events. The castle has preserved its present shape since the end of the 17th century.
Administration of the bailiwick and jurisdiction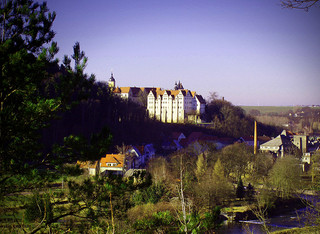 In 1630, the castle became the seat of the bailiff and served mainly administrative purposes unti the 19th century. It was the seat of the tax office as well as the judicial office with the court and dungeons. From the 19th century on, it became increasingly abandoned and was, among other purposes, used as a subsidiary of the Weildheim correctional institution, as a Saxon regional museum and for residential purposes.
In the footsteps of Saxon nobility
Nossen Office was dissolved in 1945. The Regional Museum ectended to further rooms in the west wing. In 1993, the Free State of Saxony took the castle over merging it into one administrative unit with the Altzella Monastery. Since 1996, permanent and special exhibitions have presented the eventful history of the place and commemorate the almost forgotten nobility of Saxony.
Contact
Nossen Castle
Am Schloß 3 | 01683 Nossen
Property of State Palaces, Castles and Gardens of Saxony, non profit
+49 (0) 35242 504-35
nossen@schloesserland-sachsen.de
Opening hours
Subject to modifications.
Ticket rates
Full rate 4,00 EUR
Reduced rate 3,00 EUR
Subject to modifications.