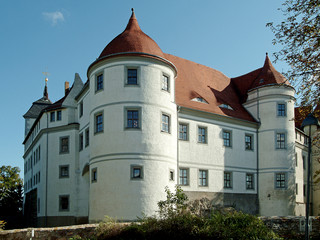 Annual special exhibitions vitalize the Renaissance palace which is otherwise quietly located in the valley of the Freiberger Mulde River. To let our visitors feel comfortable also in the future, we are taking every effort to make your stay as pleasant as possible. Here you can find all valuable information for your visit.
Contact
Nossen Castle
Am Schloß 3 | 01683 Nossen
Property of State Palaces, Castles and Gardens of Saxony, non profit
+49 (0) 35242 504-35
nossen@schloesserland-sachsen.de
Reduced admission for refugees
For a moment of peace and distraction, refugees receive reduced admission to Saxony's most beautiful castles, palaces and parks.
Benefits with the schloesserlandCARD
Permanent exhibition
Free admission to the permanent exhibition

Special exhibition
Free admission to the special exhibition

Arrival & map
Next City: Dresden (33 km)
Arrival information:
Nearest City: Dresden (33 km)
How to get there:
By car
via A14 (Leipzig - Dresden), exit Nossen-Nord or Nossen Ost, further along the road towards Nossen market square (Markt), touristic signposting is unfortunatly insufficient
via A4 (Chemnitz - Dresden), exit Siebenlehn, further along the road towards Nossen market square (Markt), touristic signposting is unfortunately insufficient
via B101 (Meissen - Freiberg)
via B175 (Doebeln - Nossen)
via S36 (Waldheim - Nossen)
Parking facilities
There are only limited parking facilities at the the castle entrance (next to the church). They are restricted in time. Further parking facilities may be found in the town center, in the market square or – more reasonably – in the »Gruener Weg« carpark. (follow the parking guidance system, about 300m to the castle)
Via public transport
By bike
Nossen Castle is located on the Mulde River valley cycling path; the Mulde River valley cycling path intersects with the Elbe River cycling path near Doebeln (www.elberadweg.de)
By rail